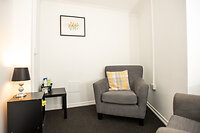 What Is Counselling & Psychotherapy?
A confidential relationship within which to explore issues of concern or distress, affecting an individual's life or couple's relationship. It is an opportunity to be heard in a non-judgmental, safe and supportive environment. Unlike discussing issues with friends or family, who may become upset or too involved, counselling and psychotherapy provides time and space for you to talk through your issues with an impartial and emphatic listener.
How Can Counselling & Psychotherapy Help Me?
Counselling and psychotherapy can help you to explore your feelings, gain new awareness and investigate alternative choices. It is not advice giving or about instructing you on what to do but instead, counselling/psychotherapy enables you to find your own best ways forward. The aim of the process is to help you to better understand yourself and review other, perhaps more rewarding options.


How Are Counselling & Psychotherapy Different?
The terms Counselling and Psychotherapy are used interchangeably and even within the profession there is some discord as to whether they are different practices. It is generally accepted that counselling is shorter term work, focused on difficulties in the here and now and that psychotherapy is longer term work, at a deeper or unconscious level.
How many sessions will I need?
This will be discussed at the initial assessment appointment and is dependent upon each client or couple's clinical requirements and personal situation. Flexibility to work either short-term (up to 8 weeks) or on a longer term basis is available.

What Is The Frequency of Sessions?
Usually on a weekly or fortnightly basis.
What Are The Fees?
This varies with each therapist, depending upon their experience and the services that they provide. Typically the session fees will be between £50-£60 per session for individuals, or £60-£80for couples. Please contact the practice to discuss your particular requirements and which therapist would be most appropriate for your needs.
How Soon Can I Be Seen?
As a group practice, we are able to offer a range of appointments times to suit clients requirements, including early morning, evenings and weekends. We can usually offer an immediate appointment, without any need to wait.


How Do I Arrange An Appointment?
Please contact the office either by phone on 01329 827121 or by email The West Street Centre Messages will be responded to promptly.

Staying COVID-19 Safe
Since the start of the pandemic in 2020, a COVID-19 risk assessment has been continually reviewed and updated. Hand sanitiser is available, social distancing is observed in the building and the fresh air circulation system is in operation on the ground floor,

For clients who prefer not to visit in person, sessions can be held remotely via video calling applications (such as Skype or Zoom) or by telephone.